Traffic Control Services in Anchorage, AK
Since 1983, Alaska Signs & Barricades Inc. has been the premier worksite traffic control service for the city of Anchorage and the surrounding areas. We are a locally owned and operated business dedicated to providing our customers with exceptional services.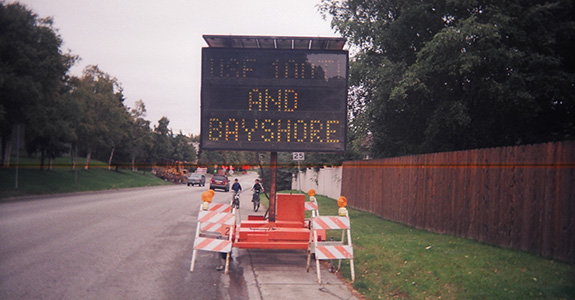 Your Local Traffic Control Service
If you are looking for a reliable and reasonably priced source for signs and more for traffic in Anchorage, AK, then you need look no further than Alaska Signs & Barricades Inc. For over 30 years now, we have been the leading locally owned and operated source for barricades and traffic control cones in Anchorage, AK, and we take pride in our strong word-of-mouth reputation for excellence. In addition to providing cones and signs in Anchorage, AK, we are proud to also provide helpful products like solar-powered sequential arrow boards, solar-powered message boards, detour signs and all worksite construction signs.
The team at Alaska Signs & Barricades Inc. specializes in providing construction and work sites with traffic control services in Anchorage, AK. We know that when you hire a company to provide traffic controllers in Anchorage, AK, you are looking for more than just excellent products—you are also hoping for a convenient and dependable customer service experience, and we strive to provide that as well. When you turn to us for delineators in Anchorage, AK, you can count on us to be communicative, responsive and respectful. Here are just a few reasons why you should contact us at Alaska Signs & Barricades for all of your needs in Anchorage, AK:
We are a proud, locally owned and operated small business in Anchorage, AK.
We provide a wide range of traffic control services and products.
Our team of professionals is experienced and respectful.
We have been serving our community for over three decades now.
Our prices are the best you will find in Anchorage and beyond.