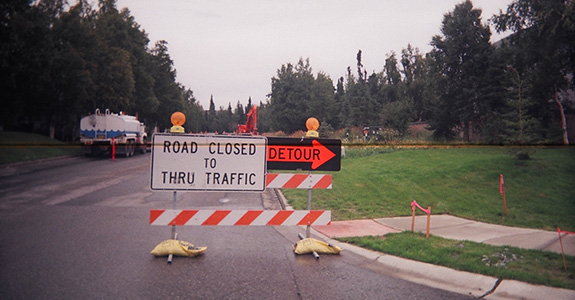 Signs, Traffic Cones and More
For the past 33 years, Alaska Signs & Barricades Inc. has been synonymous with effective, reasonably priced and trustworthy traffic control and traffic control signs in Anchorage, AK. Whether you need to rent a few traffic signs and traffic barricades or are in need of certified traffic control supervision at your construction site, we have the resources and experience to handle the job. Here is a closer look at the different products and services we currently offer:
Traffic control supervision: As a fully certified traffic control supervision service, we possess the knowledge, training and experience to keep your construction or worksite safe, orderly and running smoothly. If you are looking for something dependable traffic control cones, get in touch with Alaska Signs & Barricades Inc.
Buy or rent: When you are in need of traffic control barricades, delineates or traffic control signs in Anchorage, AK, you should have the choice of whether you would like to rent or buy them. We offer both options, and strive to ensure that prices and deals for each option are reasonable, fair and always clear from the outset.
Here at Alaska Signs & Barricades Inc., we work hard to be the only traffic control supply company you will ever need to do business with. That is why we stock a wide selection of excellent products from the best manufacturers in the industry. Here is a look at the traffic barricades and other products we're able to offer for purchase or for rent:
Road work traffic signs
Traffic control cones
Solar-powered message boards
Detour signs
Traffic control barricades
Construction signs
All worksite construction signs
Delineates
Solar powered sequential arrow boards
For more information on our traffic cones, services or rental options, please get in touch with Alaska Signs & Barricades Inc. anytime by calling 907-344-2835, or by visiting our Contact Us page.